How To Plan A Wedding Ceremony Like A Pro
Ultimate Wedding Planning Basics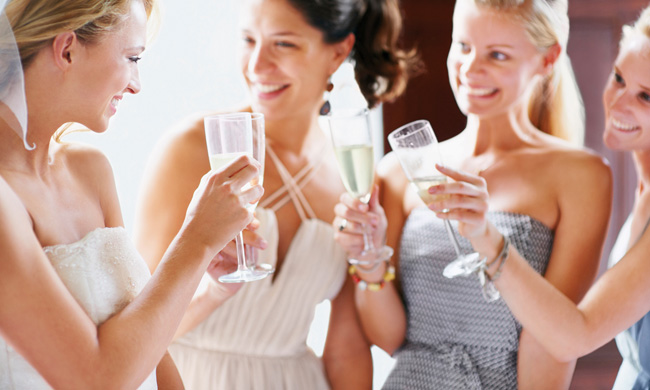 Planning a wedding can be overwhelming for brides and grooms.. There are dozens of decisions that need to be made before it's time to walk down the aisle. Whether you are planning a wedding on a budget, or a small ceremony, wedding planning basics will show you how to do that like a pro.
One of the first steps when planning a wedding is to decide how much you can afford and stick to that budget. It is crucial to consider all aspects of the wedding, from the dress and invitations to the venue as well as the guest favors. Through the entire wedding-planning process, from on-trend apparel and accessories for the entire wedding party to all the essentials to create a perfect registry.
Dressing the Ladies
When it comes to bridesmaid dresses, the mix-and-match approach is trending in popularity. Start by deciding on a color
palette, such as lilac, champagne and petal pink.  Then have each bridesmaid choose her favorite style within that range of hues. Bring it all together by choosing a uniform look for makeup, shoes and accessories.
There is no better time to thank the ladies than the morning of the big day. A few thoughtful gifts can go a long way, such as matching robes, tumblers to stay hydrated throughout the day and cosmetic cases to stow makeup essentials.
Dressing the Gents
Similar to bridesmaid dresses, groomsmen attire can be dependent on the venue and overall event aesthetic. While a suit can fit
the bill for a country club wedding, a city affair may call for the sleek finishes of a tuxedo. Tuxedo accessories, such as cuff links or bow ties, make great groomsmen gifts and are classic pieces they can use time and time again.
Creating the Perfect Registry
When building a registry, it's never too early to start. People want to give gifts as soon as they know a couple is engaged. Start by taking inventory of what you already have, what you need and what you want to upgrade. It's also recommended to update the registry regularly so there are enough gifts to choose from, especially if there is an engagement party and bridal shower coming up. To get started, some popular registry items include stand mixers, craft beer glasses, Dutch ovens, bath towels and vacuums. For extra guidance, couples can speak to advisors who can help with the full registry building process
Music sets the mood for every wedding, and it's an easy place to put your own spin on the celebration. Whether you forgo the traditional bridal march entirely or simply look for an arrangement that gives an updated twist to the classic version, let guests know this isn't your average wedding by setting the festivities against a soundtrack that lets your true character shine.

For more wedding ideas and inspiration, and to find the right attire and gifts for your wedding planning, visit macys.com.
Photo courtesy of Getty Images
SOURCE:
Macy's
Save
Save
Save
Save
Save
Save
Save
Save
Save
Save
Save
Save
Save
Save
Save
Save
Save
Save
Save
Save
Save
Save
Save
Save
Save
Save
Save
Save
Save
Save
Save
Save
Save
Save
Save
Save
Save
Save
Save
Save
Save
Save
Save
Save
Save
Save
Save
Save
Save
Save
Save
Save
Save
Save
Save
Save
Save
Save
Save
Save
Save