Ultimate Wedding Planning Basics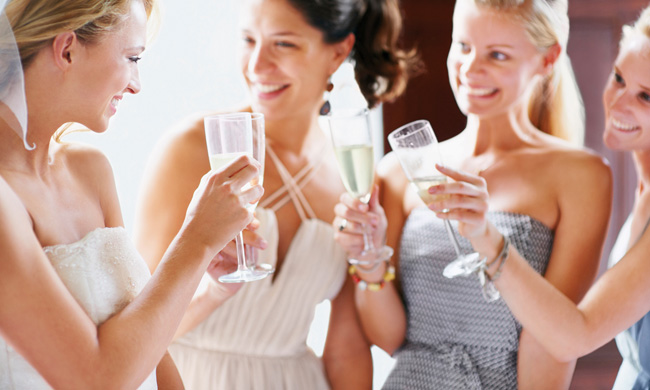 Planning a wedding can be overwhelming for brides and grooms.. There are dozens of decisions that need to be made before it's time to walk down the aisle. Whether you are planning a wedding on a budget, or a small ceremony, wedding planning basics will show you how to do that like a pro.
One of the first steps when planning a wedding is to decide how much you can afford and stick to that budget. It is crucial to consider all aspects of the wedding, from the dress and invitations to the venue as well as the guest favors. Through the entire wedding-planning process, from on-trend apparel and accessories for the entire wedding party to all the essentials to create a perfect registry.
Dressing the Ladies
When it comes to bridesmaid dresses, the mix-and-match approach is trending in popularity. Start by deciding on a color
palette, such as lilac, champagne and petal pink.  Then have each bridesmaid choose her favorite style within that range of hues. Bring it all together by choosing a uniform look for makeup, shoes and accessories.
There is no better time to thank the ladies than the morning of the big day. A few thoughtful gifts can go a long way, such as matching robes, tumblers to stay hydrated throughout the day and cosmetic cases to stow makeup essentials.
Dressing the Gents
Similar to bridesmaid dresses, groomsmen attire can be dependent on the venue and overall event aesthetic. While a suit can fit
the bill for a country club wedding, a city affair may call for the sleek finishes of a tuxedo. Tuxedo accessories, such as cuff links or bow ties, make great groomsmen gifts and are classic pieces they can use time and time again.
Creating the Perfect Registry
When building a registry, it's never too early to start. People want to give gifts as soon as they know a couple is engaged. Start by taking inventory of what you already have, what you need and what you want to upgrade. It's also recommended to update the registry regularly so there are enough gifts to choose from, especially if there is an engagement party and bridal shower coming up. To get started, some popular registry items include stand mixers, craft beer glasses, Dutch ovens, bath towels and vacuums. For extra guidance, couples can speak to advisors who can help with the full registry building process
Music sets the mood for every wedding, and it's an easy place to put your own spin on the celebration. Whether you forgo the traditional bridal march entirely or simply look for an arrangement that gives an updated twist to the classic version, let guests know this isn't your average wedding by setting the festivities against a soundtrack that lets your true character shine.

For more wedding ideas and inspiration, and to find the right attire and gifts for your wedding planning, visit macys.com.
Photo courtesy of Getty Images
SOURCE:
Macy's
Save
Save
Save
Save
Save
Save
Save
Save
Save
Save
Save
Save
Save
Save
Save
Save
Save
Save
Save
Save
Save
Save
Save
Save
Save
Save
Save
Save
Save
Save
Save
Save
Save
Save
Save
Save
Save
Save
Save
Save
Save
Save
Save
Save
Save
Save
Save
Save
Save
Save
Save
Save
Save
Save
Save
Save
Save
Save
Save
The Wedding Registry Ideas was created by The Marshall Fields in Chicago Illinois in 1924. The concept was intended to help engaged couple to choose their own crystal and to prevent guests from buying duplicate presents. Wedding registries  can be a wonderful help for a bridal ,it is likewise an opportunity for guests to help you celebrate your new life by giving you wedding registry gifts that complement who you are and all the things you love. It is very important to create a bridal registry checklist to get exactly what you want. You can create your wedding registry online with stores like Macy's and Bed Bath and Beyond or with Amazon.
As more and more couples find that they are getting married with too much supply of household items, they may be looking for alternative to traditional wedding registries. If you don't want to receive a bunch of useless items,it is essential to set up a wedding registry right after the engagement. Some of your guest may give you gifts before the wedding, if you do not set up one on time they will not know what items to give and they may bring undesired ones. When you create a list of items, you should be careful not to appear too greedy. Don't say things like " Ralph Laurent'' Sheets Set or "Calvin Klein" Towels"
If you already have everything your guests will have to take a stab at what you might need, and not registering can put a lot of stress on friends and family members. If you live in the US area you can set up for a bridal registry event or set up an online registry to accept monetary gifts (wedding gifts certificates) that would help pay for airline tickets for the honeymoon. Some of the guests will think that you are on a greedy mode, but it's better than
receiving wedding gifts you have no use for. A bridal registry book can also help you to better understand your options.
You might think your wedding is the gala event of the year. But for guests like me it's a big fat inconvenience that come at a hefty price. especially if it's in Summer, I have to buy an outfit, pay for travel costs and to shell out money for a wedding gift. (based on my personal experience-some people are very hard to pleased the gift might not even be appreciated)
Save
Save
Save
Save
Save
Save
Save
Save
Save
Save
Save
Save
Save
Save
Save
Save
Save
Save
Save
Save
Save
Save
Save
Save
Many people have been getting in relationship with someone  they thought was right for them- not knowing if their zodiac signs are compatible. No matter how much you think you're in love with that special someone,understanding astrology will give you an edge. Some people think zodiac signs relationships are a myth, but if they learn how the elements of Astrology works, they can potentially increase their chances of finding the right zodiac compatible mate.
I am not an Astrologer, but based on my personal experience, I know a thing or two about zodiac relationship. Fifteen years ago, every Sunday evening my ex and I used to listen  to a program on Astrology on a local radio station – they used to take live calls so one Sunday we were curious to know about our zodiac compatibility.
As per our agreement, I made the call- when I asked the guy how compatible are Virgo and Pisces? He said those two signs are the worse match. I was on speaker hence, he heard it as well. Truthfully, I was not totally surprised and neither should he. However; he became cantankerous, and turned the innocent phone call into something that was never meant to be. He went on to say that I had prearranged with the guy. We in love, and when things were good I felt that I met my soulmate. However,  we brought the worse out of each other, and in many ways we were the complete opposite..
Some people are not interested in finding out the zodiac compatibility of the person they are in relationship with or planning to, they think it's pure superstition, to some other it is too confusing. So, for a clear understanding – C.G.jung has created a chart which represent the four basic elements in astrology — And they are: Fire, Air, Water and Earth.
Fire Signs are: Leo, Aries and Sagittarius- they are enthusiastic and larger than life- full of power, light and highly creative. They have a lively imagination.
Air Signs are: Libra, Aquarius, Gemini – they have a strong connection with the world. Restless and curious, they have continual  hunger for new ideas
Water Signs are: Cancer,Scorpio, Pisces- they are highly emotional, deeply romantic and notoriously sensitive. They can be very moody, and massively insecure.
Earth Signs are: Virgo,Capricorn, Taurus -They are highly sensual, deeply loving and eternally loyal. They have kindness and willingness to help others. Virgo, surprisingly, can some of the kinkiest "interests".
Knowing how the zodiac sign works, you'll be better prepared when deciding to pursue a relationship with someone new. For example- fire and air complement each other therefore their romance has a good chance of becoming long term without a lot of stress. Water  and earth  has the potential to have a nurturing relationship. When two people are in love-they're a mass blended energy- which consist of hope, wishes, likes dislikes and pet peeves. However if you know your zodiac compatibility mate, you'll save yourself a lot of heartaches and unnecessary drama. As for my zodiac compatibility — Pisces & I are cosmically misaligned 🙁 The Secret Language of Birthdays
.
There you have it. How to Find your Zodiac Compatible Mate:)
Save
Save
Save
Save
Save
Save
Save
Save
Save
Save
Save
Save
Stages of Getting Over a Breakup
Breakups are one of the saddest parts of any relationships regardless who did the dumping, who got dumped and whatever the reason. The stage of getting  over an ex can be 
brutal! The relationship might have been unbearable at times nonetheless; you fought so hard  to hold on to it and you can't  believe it's over- especially if the relationship was long-term.  You are missing the times when your brain was saturated with "feel good" hormones: Your  world is turn upside down and you would do almost anything to avoid accepting it. It's hard to put a brave face when you are nothing but okay. (You probably shouldn't handle heavy machinery)  But there are steps you can take to help you get over your ex and move on.
How To Mourn A Breakup.
Getting over a breakup is the hardest thing to do – it's like mourning the death of a loved one, and the stages are rough: But once you go through them, you'll know yourself better. Shock is probably not one of the stages because I am almost positive there were warning signs that the relationship was in on Life Support . Denial is what many of us go through the first few days thinking the breakup is temporary. However; talking about it to friends and family members will get you out of your delusional state- because they will not failed to tell you what you do Not want to hear (:
Mending Your Broken Heart
Because you are being eaten up by caustic emotions doesn't make it okay to postpone your need to  grieve-(the stage that can potentially help you to mend your broken heart) doing so will just replace it with unrealistic hope – which will prevent you from reaching the point of acceptance. You are angry, hurt because everything you dreamed for your life was invested in this

person, the pain is real and doesn't  feel it will go away anytime soon. Let me tell you something… I've been though breakups myself, and I know for fact that it is not easy to get over an ex. However;   if common sense is able to cross your blood brain barrier, you will adjust the content of your mentality and stop feeding your pain, and start mending your broken heart):
Many people failed to understand that ex is short for E X P I R E D! Regardless  of the type of relationships. Husbands & wives, boyfriends and girlfriends; when the expiration date is reach — a breakup becomes imminent .  Some relationships can survive hail storms; others wash away at the first rain drop- that's just the fact  of life; now you are trying to get over your ex but  you are being haunted by the memory of  Hot Steamy sex swinging  through the chandelier. You need Jesus to help calm that mental disturbance and bring you basic tranquility– That chapter  in the lifetime is now shut.
It's hard to say goodbye to your soulmate however; it is in your best interest to accept the breakup, and start living your existence again. You may be the only one suffering; the case may be that your ex has moved on completely and doesn't even think about the relationship anymore. The stress can put you in an  involuntary diet and make you physically sick. (I remember the day of my breakup, I went from  size 16 to 14 overnight: I didn't eat, nor sleep- I worked double shifts and cried on my lunchtime. The following week, I lost so much weight lots of people thought I was on a crash diet. Friends and family members avoided me so my misery wouldn't rub off on them. I turned over to God, He helped me redeem my sanity and gave me the strength to get over my ex. It's a CATHARTIC EXPERIENCE:(
How To Handle Mutual Friends After a Breakup
Just because you and your ex parted ways doesn't mean you have to say good bye to those friends, too. However; be careful of what you reveal to these mutual friends, and keep them at a safe distance; don't let them know you were stressed over the breakup . More importantly; don't trash your ex to them – if they ask how you're doing, you can say things like "I'm doing pretty well, all things considered; and quickly change the subject, you don't want to give them the opportunity to reveal to you how your ex is doing and who she/he's dating. If they invite you to gatherings just politely decline, because there is a strong likelihood your ex will be there. One of my friends was invited to a dinner party by mutual friends – one hour after she arrived, the guy she had recently been separated from, showed up with his brand new girlfriend – they were not even divorced yet.
Instead of leaving, she confronted them – they acted as if they they didn't know he was going to bring that special guest. Right! If it was me, I wouldn't even bother I would've left the party and forfeited all respect for them. Let's face it, getting over an ex after a break up isn't  easy, and being in the same proximity with your ex and his/her new partner is the last thing you need.  Learn to let go of the hatred and unresolved anger – these hurtful emotions  have been known to contribute
to irregular heartbeat. It is crucial  that you focus on ways to better yourself and to lead a happier life. In most cases, your ex is almost as miserable after the breakup as you. Nonetheless, refrain from calling, or texting; don't go out of your way to drive around his neighborhood- that my friend is the behavior of a Stalker:(
Why You Should Not Take Your Ex Back
Getting back together with your ex is a personal decision: Only you and your partner are qualified to make that decision. Based on my personal experience it is a Terrible mistake. Six months after the breakup I started receiving phones calls from blocked numbers, as soon as I answered – the caller would take a deep breath and hanged  up. I got annoyed I asked my telephone provider to reject blocked numbers.  One Saturday evening a phone call came through, when I answered a voice said softly "hi gorgeous"! I was totally speechless! Before I had a chance to catch my breath he said 'honey,  "you have no idea how much I missed you, I am sorry for the way I hurt you But please, give him  a chance to make it up to you" .
To tell you the truth, I had no intention of taking him back, however; one day he asked if he could come to see me -as soon as I opened the door he dropped to his knees, and said he loved me. (The power of forgiveness is beyond measures) He melted my heart and I took him back- . And less than a year later —  the shit hit the fan, and we broke up for good.  I have a little advice for those of you who are asking "How to get your ex back. Whatever caused your relationship to fail the first time will likely return the second time, either as a main character or as a not so special guest. Relationship problems has a way of behaving like boomerangs: they come back, no matter how far you throw them.
I always look on the bright side of things, but based on my experience, and   I can safely say that a failed relationship is Not likely  to succeed a second time. Relationships need friendships, no matter how good you are in bed (:
Bottom Line:  An Order  To Keep Your Sanity Intact- Get Over Your Ex  Immediately After The Breakup.
Later!
Ways To Be Happy Single
According to Author Malcolm Gladwell, it takes 10,000 hours of practice to become an expert in
anything-in that case I should have earned a Ph.D in the art of being single, because I don't like to jump from one man to another. After the partnership I formed in early life failed to pass the test of time – I voluntarily stayed single for a number of years. I don't want to go to an depth boring details,  however, my last relationship left me feeling that my love life was not mine to command and hence, I've been living my single/alone life fully and unapologetically for well over 10,000 hours.
Before you blow my shared hosting with bashing comments, I am the first one to admit that being alone sucks sometimes – especially during those sometimes. I didn't set out to live a single life, I always give my all, in fact-when things were breaking apart I desperately held on and tried to pick up the pieces that should've been left alone. The point I am trying to emphasize here is that happiness begins with you, and not about who you share your love life with. If you have the genetic predisposition, you will be happy whether you are single or duo. If you can't stand being alone and happy with yourself why should someone else be expected to?
While I'm far from being an expert in anything, I've learned a few things while being single. Make a list of things you could not do while you were in a relationship (I was not allowed to wear low cut tops- my boobs were always in straight jackets) and do every single one of them them Boldly & Fearlessly. Don't be afraid to do things alone, this sounds obvious but a lot  of single people spend their single life waiting for another partner to start their life. Be the master of your situation, and cease feeling downcast being single and alone. Get a new blueprint of yourself. There are ways to be happy while single. Below is a list of things do that can make you happy after a breakup.
1. If you are a newbie in singlehood- don't panic single is not a status, don't think you have to find someone immediately . It will make you blind to obvious red flags, and entering a toxic relationship is inevitable. additionally;the air of desperation will bring negative energy into the new relationship
2. Travel alone, it feels weird at first however if you ever experiences the stress of traveling with your significant other you'll love to be on your own schedule. After my break-up I used to travel with friends or family members – they tried to stress me out now I go SOLO…)
3.  Develop self-awareness when you are deeply  in love, you are  prepared to do anything to make it last you lose yourself in the process. So spend time with yourself to get to know who you really are. Read below what I found out was hidden deep in the corner of my soul.
4. Foster other relationships,find someone to love  beside family members.I'm almost positive you'll find something about that someone who that does it for you. If you are a single man try to befriend her if she is available- if you are a single woman well, I am old school I don't know how to ask  men out. Conversely awkward predicament is what my love life is currently about. I am ashamed to admit I am in love with a gay guy who is engaged to his long- term partner. What's makes it bizarre is that I fell for him after he revealed his sexual preference, and clearly conveyed the message by adding that he was not interested to know the female anatomy: (
To those of you who will have questions and comments let me save you time by answering some of them : No I do not have a fetish for gay guys. Who say it's wrong to love someone who can't return the love? TRUE LOVE by definition doesn't require reciprocity. I met him in a meetup group 2 years ago, when he noticed the members were mostly women -during a conversation he dropped the bomb! I can't train my brain to remove the love however I don't want him to have any suspicion. He 's no longer a member of the group so I don't get to see him as often as I used to, nonetheless I can't stop dreaming and thinking  about him – which keeps me from getting into a relationship. Perhaps reality will set in after he gets married . Enough about me! I am done washing my dirty laundry in public.
Some people failed to understand that having a spouse doesn't necessarily mean happiness. I know people who are married but happily single, but they stay together because they don't want to be referred to as  "not taken". When you're dependent on someone else to make you happy -you're simply trying to light your path with someone else's light. Instead of wallowing in self pity, invest that energy into the one person who will always be there for you: YOU!
Hi Guys! Thank You For Stopping By. Please Do Me a Favor: If You Have a Question or a Comment Make it Short and to The Point. Not Only Because I Won't Have Time To Read Your Long Essays, But They Slow The Speed Of the Site .
Furthermore; Do
Not Request to Speak With Me in Private  –That Will Never Happen:(.
With God In Your Life You Will Never Be Alone. He Is Your Silent Listener And Your Invisible Partner.So Be Happy With Your Single Life;)
Peace!. 
Safety Tips for Online Daters
Online dating has expanded into platform to make it possible for single Men and Women to find their potential partners . There is always a feeling of adventure, and a sense of excitement in getting  to meet someone new. However; there are certain precautions that must be taken to stay safe when dating online.  The first step is to find a reputable paid site, there is no tangible evidence that they are one hundred percent safe, but they will likely attract more serious people- which preclude the possibility for hazardous characters. Nonetheless; I have to emphasized the important thing to note is that you  are seeking to date a total stranger, and it is crucial to watch out for potential dangers:(.
A large number of people have found their ideal partners online conversely;  many others have been the victims of internet dating . Some of us get excited  when we receive a message from a potential date, it is a normal human reaction however; if you are losing touch with reality and allowing  your heart rule your head your sense of safety will be buried in the back of your brain– and All Hell can potentially break loose. There are safe ways to navigate the realm of online dating, and not let your vulnerability get the best of you. if you are desperate to get into a relationship– you will get victimized in every possible way..(
As  security measures, Online Dating Services generally warns their users not to disclose their real names, and contact information on their profiles– they provide a safe way for members  to communicate anonymously. When someone reply to your your profile it is not necessary to get overly excited! You will be given the option to either ignore, to check out the person's profile or respond. (I always glanced over the person's page even if it's just to satisfy my curiosity. ) Well, refrain from pushing the respond icon prior to finding out what the person is about. Leave a short note to let him or her know your communication lines are open.
As the world become digital single people are turning to the internet to find love however; some people think  that it is the hallmark of sheer desperation. I remember a few years ago I confided in one of my friends that I was contemplating online dating- she looked at me in total disbelief! I was not surprised because we both were born in the same underdeveloped Island, and based on our culture- men seeks women, not the other way around – except the prostitutes.
Not everyone knows to navigate the tricky world of conventional dating, the answer to this challenge is the internet ,and there is no shame in that as long as you are in full possession of your faculties. One important thing online daters should understand is when another  member show interest in their profile that doesn't mean ' Lonely Nights are  Over!However, some of them  entertain that in the realm of their imagination which is a tragedy!. Don't get bummed out if you don't get a follow up from the man or woman who responded to your online profile.. Understand that  he or she doesn't not owe loyalty to you, no matter how irresistible you think you are! Some of them are clowns – they just like to rattle the cage  As an interesting note-  make sure you remember what they looked like in case they hit your profile again.
Online Dating Safety

Not everyone enjoy the alcohol filled environment looking like desperate bar flies in an attempt to meet someone to have a relationship with. However; in the world of online dating, no one can ignore the existence of danger. I hope I have correctly assume that everyone knows how to stay safe while dating online! Keep  the conversation via anonymous messaging, and don't reveal personal information until after the first date if you both entered into a genuine agreement to continue to date. That will put you on the threshold of becoming a smart online dater. I've heard so many stories form people who were victimized as a results of unsafe online dating practices. Being aware of the danger is instrumental to your safety, and you will not blind sided by gold diggers, mental patients, and whiny brats masquerading as adults ! that can fall under many sub-category.
How To End The Date
Let say you have a shared connection with that person, and the initial spark was present – do Not try to make out with him. Study show that there ere are health risks associated with deep kissing- some of them are: Streptococcus from tooth decay, and Mononucleosis which is a kissing disease. You can end the date gracefully with a peck on the cheek. Locking lips involve saliva- saliva has too much  testosterone in it that can trigger the sex drive hence– I wouldn't swap it with someone I barely know:(.  To Each His Own! One final note: Do your best to keep your ego in check- displaying too much self confidence on a date is the all time bad behavior …(
Whether You Are a Men or a Women-I Hope You Are Now Ready To Date Safely Online;)
First Date Tips!
Alright, so it's the first date! Congratulations!  You are excited however; the butterflies in the stomach are fluttering, and you need tips on what to wear to make the so called " first impressions."Relax!  If you are like me, you already know   beforehand the venue, time a day and hence;you are ready to dress accordingly (unless you got yourself a date with an alien) . If you reside on the East Coast-  you don't have to be a fashion icon to find something to wear that will make you look your best and create a memorable impact on your potential partner . Fortunately, it hot right now so less is more nonetheless — you have to dress for the occasions.
lf you are attending an outdoor concert, that can take the stress out of choosing a wardrobe attire, because you can safely wear casual  outfits jeans and a semi-dressy top. If you are going to dinner in a fancy restaurant  or a social party  you should embrace the evening with a simple short sleeve nice cocktail dress- not too form fitting and too short- the hem should fall below the knees. Heels are an absolute must!!. Every woman like to look attractive especially on a first date however; you don't want to distract your potential partner  by wearing strapless top that reveals too much cleavage -which can prevent him from getting to know you, and your true personality…(
Make up & Accessory Tips.
It is not a good idea for women to wear piles of make up – (unless you have large pores or pimples) fake eyelashes,deep black eyeliner, mascara,fake nails and weird lip color to go on a first date. The tip to a perfect summer make up is to apply a thin layer of a waterproof foundation that matches our skin complexion, and a tinted finishing powder. Colored Lip gloss or lipstick, one coat of mascara. Anything overdone will just send the wrong signals. Accessories can  enhanced your outfits- however too  much jewelry such as large Bangle bracelets, and large hoops or dangle earrings appear gaudy and cheap. It is more ladylike to wear a nice gold necklace, a normal size earrings gemstones rings on the left and right finger or plain diamonds if you own any.
Women can spend hours trying to decide what outfit to wear on a first date, whatever attire you finally decide on, it is important that it is suits your body shape, your personal style, your age plus it is suitable for the date location. When I was in the dating realm-my outfits were always on point, because a few  days prior  to the Rendezvous I used to set aside  3 different ensembles and choose the one that fit me best. Though you should look impeccable, you don't want to show up all dolled up looking like you spent hours to get ready, it will raise "High Maintenance alert". Don't be surprised if the guy show up wearing t-shirt and jeans– most men don't like to feel threatened or intimidated by women…
Activity Ideas for First Date
First date activity doesn't have to be the endless cycle of having dinner at restaurants we've been to a dozen of times
before,there are a multitude of fun outdoors activities- you just have to get out of your comfort zone. Theme parks are not limited to enthusiasts and teenage birthday parties. You can walk around try new bites and sips. If you're feeling more adventurous, go to a art museum or bar that showcase local musicians,that will give you the opportunity to find out if chemistry is present without having to maintain a conversation.  Conversely; sitting is a close proximity of a movie theater with someone you just met is not a good first date idea- the only thing you will find out about each other is if you both like a lot of melted  butter on your popcorn-which has no chemistry attribute:(
What Perfume To Wear On A First Date
Finding the right perfume to wear on a first date is crucial, and the way in which you apply it also count. If you don't know much about the guy, choose a light and alluring fragrance, a scent that is appropriate for the date venue. Some people suffer from have asthma or other medical conditions that can cause them to be sensitive to scents. (Men can be easy to please, especially if you appeal to their standards) A first date is about making a good impression, but wearing the wrong perfume can potentially create the total opposite . The best way to find out what type of perfume to wear on a first date is to ask the guy, and not Google. Even if he is a blind date, you have an open line of communication with him. I am a scent wearer hence; always make it a point to ask my blind dates if they are sensitive to scent.
To make your date memorable (perfume wise) I have compiled a few Summer Perfumes that are perfect for any date. How do I know you asked?.. I used them myself.
1.

Un Jardin Sur Le Nil by Hermes, Paris. The English translation is: A Garden on the Nile. I have been using Hermes Perfumes ever since I can remember. During a visit to Paris in 2007, I went to the store to get 24 Faubourg -which is one of my favorites by Hermes. While I was getting ready to make the payment the sales lady asked if I ever tried Un Jardin Sur Le Nil?  I said no and she sprayed  the back of my hand. As soon as I stepped out my nose picked out the aroma of grapefruit and aquatic citrus and lotus flower– I went back immediately and bought it. The Perfume is very light but has a decent lasting power and universal appeal…)
Miss Cherie by Christian Dior
Now that I am older, I have more appreciation for Christian Dior. Miss Dior Cherie is sophisticated and expensive. Each Perfume by Christian tell a story ,but this one speaks volume. The Strawberry, jasmine, vetiver , neo-chypre and moss are divine. This perfume represent elegance and luxury.
Amazing Grace by Philosophy
If you are the type of woman who act with grace everyday, you accept winning or losing, and you are capable of turning darkness into light–this perfume is perfect to wear on a first date. The  mandarin, grapefruit. bergamot, orange and freesia  will cover you with Amazing Grace and inspire a great sense of well being
The name says it all! I blind bought this perfume at Sephora within a year of it's release. Just like coming out of the shower but better. Pure and light. The note are: Lavender, damask rose, geranium, white soap all the way and a blast of lemongrass. Make sure to shower first.
What To Talk About On a First Date
Watch the you tube video below, and you'll know what you should never talk bout on a first date. On a side note. Whether you believe there is chemistry between you and the guy… Do Not Try To Go Down On Him! Many women have performed oral sex on a first date as if they were auditioning for a part on a porn movie- and they wonder why they have not heard from the  guy  again?. 
Gifts to Avoid Giving on Valentine's Day
Valentine's day is really about the love shared between two individuals, but the romantic message can be delivered with a gift. Conversely ; your choice of gift can send your relationship straight to the Crapper! Stay put because you are about to find out the ones to avoid. Gentlemen—

One of the worst gifts you can give to a woman on Valentine's day and any other holiday is a "wrinkle bra" The weird article of clothing was created  by Dutch designer Rachel De Boer when she spotted wrinkles in her cleavage at the age of 30. Though your intentions may be pure, the gift will convey the poignant  message about the tremendous amount of stress you are under by looking at the vertical lines between her racks. And that will not sit well with her especially if you haven't displayed any attempt to  inform her that gravity had vandalized her asset. She may never be able to  forgive you…(
For some reason some women lose interest in sex or they lose interest in their husbands after having children. There could be many reasons for that–she's probably too tired, he is not a good lover or gets turned off by his  constant demand for intercourse. If you are facing this issue contact Dr. Phil or a sex therapist, the worst thing you could do is to wait for

Valentine's Day and slap her with an inappropriate gift. Not everyone gets their grooves on from watching porno movies.Until you find out the underlying reason for your sexless relationship- my advice to you this valentine is to avoid giving her gifts similar to the one on the left::
Ladies, there is a fine line between caring and an uncontrollable desire to humiliate the man you promised to love. So, he lost his swagger- he is unable to achieve or maintain erection long enough for you to hit "Third rail". You are frustrated and unhappy! If you are willing help restore his sexual potency … this Valentine's Day – avoid giving him a gift that can potentially decimate what ever left of his manhood– I am referring to Testosterone Booster– which he probably thought he had too much of! However; if you intend to turn him into a sex machine from "Dusk Till Dawn" on Valentine's Day- then by all means buy it! 
There is a rumor going around that men find Bitchy Women more attractive!. If you are a married woman who prefer to drink your beer straight from the bottle, and happen to be blessed with an imbalanced attitude- well, help us put the truth to the rumor with this Valentine's Day by giving your husband  a gift that can potentially put an end to your marriage.  All the gifts posted above are the absolute Worst Gifts one should avoid giving  on Valentine's Day:(
The term "There is Light at the end of the Tunnel" is about to stand the test of time right now! If you managed to salvage your relationship after giving those inferior gifts-you can make it up and delight the love of your live with the following gifts ideas.
1. Amethyst: We primarily wear pink and red on Valentine's Day, but  according  to legend the day hystorically symbolized by purple because the saint named Valentine wore a purple ring with an image of cupid imprinted on it –  which symbolized  God of desire, erotic love, attraction and affection. However;  we don't necessarily have to give an Amethyst ring to convey the same message as Saint Valentine. I think an Amethyst /diamond pendant and the Cupid Doll will be awesome! Learn To Be Creative People!
If your man is into jewelry find a romantic area, pour your heart out without saying the poignant words, because the Amethyst ring will speak on your behalf better than it did in the beginning of time. Roses are largely Valentine's Day celebration, and you can never go wrong giving them.
In case some of you didn't know- Dove heart shape Chocolate was likewise  a romantic symbol 🙂

Now that you all now the worst gifts to avoid giving on Valentine's Day- is it okay to move on to a different   subject?.
Joyeux  Saint Valentin!
JJ

Valentine's Day is an occasion when lovers express their innermost feelings. Flowers are said to be one of the best things to convey your feelings for that special someone. However; choosing the right one is extremely crucial. Flowers comes in several different colors, shape and scents – and everyone  of them is associated with a particular sentiment. The Victorian England people were known to expressing themselves through symbols and Roses instead of words. An order to hit the ball out of the park… you need the proper thought process to find out "how deep is your love"  before buying an overpriced flower that will convey a confusing message to the recipient. Find out where your heart is from the list below.
The world has grown to  know that red roses are timeless symbol of love, and no other flower has the same romantic heritage. Though a single rose has different meaning among them is  undertone passion. If you want to express deep feelings through Flowers this coming Valentine's Day. One of your best option is to carefully choose the right flower to give to her  a bunch of Fresh Scented Red Roses  that will make a lasting impression on her. This 50 giant long stem Flowers will unquestionably bring the message home.
The freshest Roses she will ever see:) Hopefully she'll appreciate your effort.
Will You Marry Me?

Over the years people have used different (crazy) approach to make their marriage proposal unique and exciting, one dude jumped off a lake- and I heard another one swallow the ring and the surgeon popped the question on his behalf after removing it from his intestines. If you are ready to take your relationship into the next level, you can do so safely by choosing the right flowers. These handmade pink flowers ring box are perfect for wedding proposal. They are real rose heads preserved to last a longtime while maintaining their pliability and colors. So lose the engagement band anywhere inside of the box, and tell her you accidentally dropped your DNA in there if she could help you retrieve it:)
G
entlemen- I Did -Not- Forget- About You!
One of my favorite flowers for men is 'Citrus Splendor'! if you have never given it to your man- I suggest you do so this Valentine's Day. It's fresh and inviting. Just place it somewhere in your bedroom (it could be messy in there!) and let the aroma fill the air…)
Here is a couple of great Valentine's Day Flowers you could  choose from. The first one is: Modern embrace elegant lilies, hand-arranged in a stylish glass cube vase, and she'll think it's the perfect accessory for her modern sensibility. Hand-crafted arrangement of romantic roses and lilies,   clear glass cube vase wrapped with an exotic ti leaf.
Trouvez- Vous Un Amour Avec Cette Magnifique Fleur:)
La Paix!
Valentine's Day Gift Ideas
Valentine's Day is lurking, are you lovers ready to celebrate? I'm pretty sure that some of you are brainstorming for unique valentine's gift ideas. I don't have to deal with that dilemma, but if I had a man in my life, I would be contemplating in buying one of  these cool gadgets for him this year. Feel free to check them out below.

A Unisex Snow White Gravity Watch Z0001. The unique timepiece was created by  Ziiiro to make us tell time in a whole new way. The tip of the inner swirl  represent the current hour, and the outer  swirl display the minutes with a continuous gradient movement showing us the Zag of the world through the passing of time. On Valentine's Day, you in your significant other will know for sure how time flies when you are having fun!

Everyone loves taking pictures and videotape stuff to upload to you tube. Now, with the HD Camera Sunglasses DVR by iVUE- you will look cool and record anything on the fly on Valentine's Day. The features that are included are as follows:
Record HD video at 1080P @ 30fps and 720P @ 60fps. Amazing 1080P video, also the 720P mode records at a higher frame rate which is perfect for fast action shots.

135 degree wide angle lens provides a wider field of vision. This is perfect for recording sport activities.

Free 8GB memory card included. The memory is expandable and it can support up to a 32GB card. It comes with everything you need to start recording.

Weather & impact resistant frames | Polarized lenses | Rechargeable 550 mAH battery | Time/date stamp | Time lapse Recording | Change other video settings

One-touch button recording with audio tone. Glasses will alert you with audio tone when recording starts and when it stops. In addition, an indicator light on the inner right arm of the glasses will flash while recording.

Are you tired of buying chocolate, flowers or even Cologne for your spouse on Valentine's Day? Well, why don't you buy a car. No! not the type that cost a fortune, and have to be registered before driving it— A Corvette Optical Mouse! You don't get it do you? Let's try this one more time! "A Mouse That Comes In The Shape of a Car"! Comprende? My Valentine's gift to myself for sure! Check out the features that comes with the bad boy
USB 2.0 PC and MAC compatible

2.4 GHz stowaway mini receiver compartment

Accurate combination 800 or 1600 DPI

Officially licensed Product

Fully functional headlights with on / off switch

1 year limited warranty

Built in automatic timer shut off

Unique 17 digit V.I.N.

If your mate still uses Desktop Computer the bundle  below likewise is a unique Valentine's gift. Red Chevrolet Corvette Wireless Keyboard & Mouse combination. Read below for full details.
Features HP Link-5 Technology Which Connects Up To 5 Link-5 Compatible Accessories At Once

Fully Licensed By Car Manufacturer

Backed By HP Technology

Standard Size Mouse With 1,000 Dpi Optical Sensor & Scroll Wheel

Full-Sized Keyboard With High-End, Scissor-Style Keycaps For A More Responsive Keystroke

Includes Wireless Keyboard, Mouse & Mouse Pad

Red
 Now -That's What I Call Unique Valentine's Day Gift Ideas!
Later!